Sustainability, efficient waste management and proper recycling are widespread topics between business owners and the commercial sector.
Paper and cardboard account for approximately 67% of the 69 million tons of recycled waste in 2018. According to the study, the most recycled paper products and materials were:
Corrugated boxes (32.1 million tons)
Mixed nondurable paper products (8.8 million tons)
Newspapers/mechanical papers (3.3 million tons)
Mixed paper containers and packaging (1.8 million tons)
Investing in high-quality recycling equipment, such as balers, bring businesses economic and environmental benefits. Here are some of the main areas that distributors, retailers, and manufacturers should keep in mind before they invest in their baler.
Cost Benefits Of Paper/Cardboard Balers
The key benefit to balers is they compress products, increasing the amount of products that can be hauled out. The money saved on delivery expenses and recycling refunds will balance out the cost of the baler. Although this won't happen overnight, businesses could see a return up to $80.00 per ton in rebate pricing.
Advantages Paper/Cardboard Baler Machines
Here are five advantages to a cardboard/paper baler machine:
1. Less fuel used for shipping baled material compared to loose material. Balers eliminate the need for several trips and the baled material can be shipped in greater quantity.
2. Balers allow you to track the success of your recycling or where your business can improve paper recycling techniques.
3. Clean recycling products are created from baling, which can be further recycled.
4. Baled paper can be a source of revenue. Some recycling companies may pay your business for baled paper products.
5. Reduced labour costs for staff handling loose paper products and waste.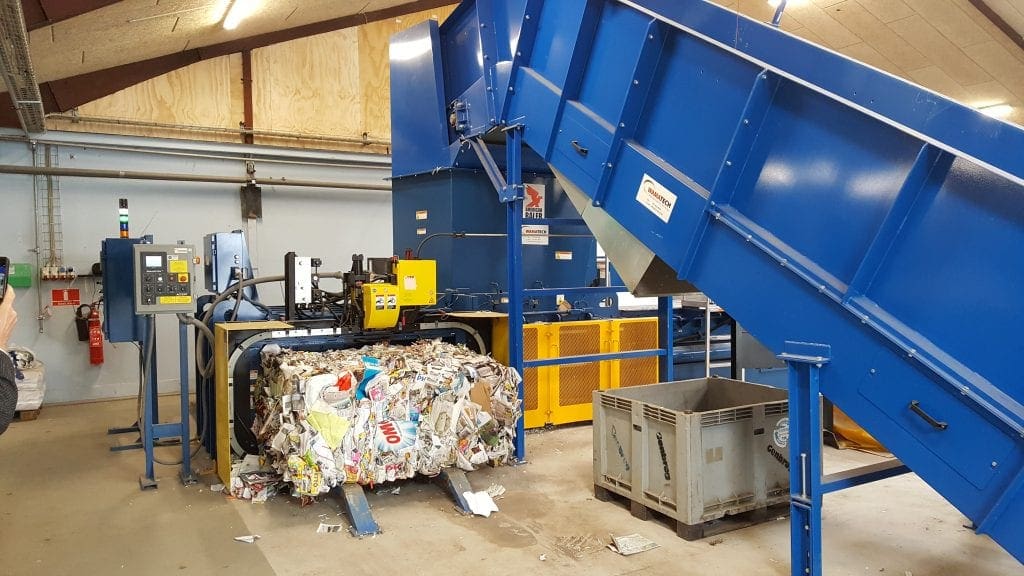 Choosing The Best Paper/Cardboard Baler
If you're looking to invest in a baler for your business, here are the things to consider from our experts:
Feed opening size: How big an opening is required for the material(s) being baled? How will the bale lamination thickness affect bale integrity?
Hourly capacity: A function of charge box size, cylinder bore and HP.
Shear/No shear: What needs to be considered?
Storage above baler: How much storage is needed to reach the required hourly production?
Bale size: What sizes are acceptable to the mill(s)? Type and inside dimensions of a shipping container used.
Bale weight: Minimum bale weight/density to consistently meet minimum load weights requirements-determines overall ram force and cylinder size.
Export: If bales will be exported calculate the minimum bale weight /density required based on the required minimum load weight.