Balers play a crucial role in having a recycling program. Since they help recycle and pack large amounts of materials into a compact shape, they are more accessible to store and ship.
There are various types of balers for specific applications. The two most common are vertical and horizontal. Here are the benefits and disadvantages of each type.
Horizontal Balers
Horizontal balers process waste differently than vertical ones. Recyclable waste goes into a hopper, and once it is full, a ram from the side compresses the material with a horizontal force until the bale is complete. The bale is then tied off with wires and ejected.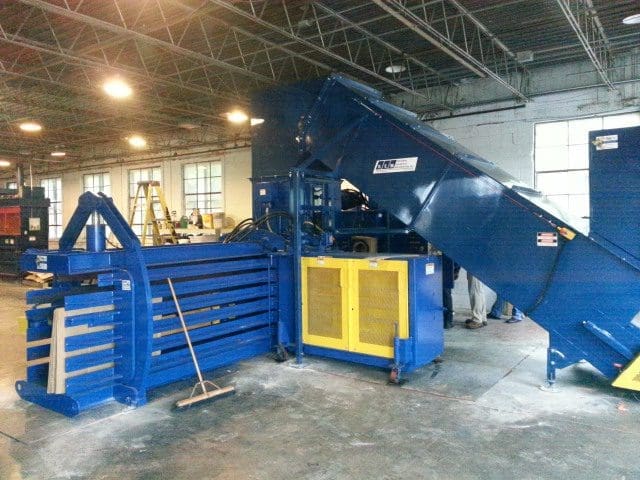 Advantages of Horizontal Balers
More Applications: Most horizontal balers can process various materials, such as painted aluminum siding or radiators. They produce bales for non-elastic materials such as newsprint and papers. 
Higher Volume: Horizontal balers can process a higher volume per day and larger bales than vertical models.
Consistency: They produce bales that are consistent in density and weight, making them easier to store.
Convenience: Horizontal balers can be used with in-ground or above-ground conveyor belts, shredders, and air systems. 
Disadvantages of Horizontal Balers
Size: Horizontal balers need more floor space than vertical balers.  For instance, some models are even 40' feet in length, including their platform and stairs. 
Price: Horizontal balers are generally more expensive compared to vertical balers. This cost can be even greater if they are purchased with a conveyer or shredding system. 
Vertical Balers
Advantages of Vertical Balers
Smaller Footprint:  Vertical balers take up far less space than horizontal balers allowing them to be used in various applications. Vertical balers can be used in the same places horizontal balers can, but they may also be used where horizontal balers are impractical, including hospitality or amusement venues and commercial operations including retail, distribution centers, for example.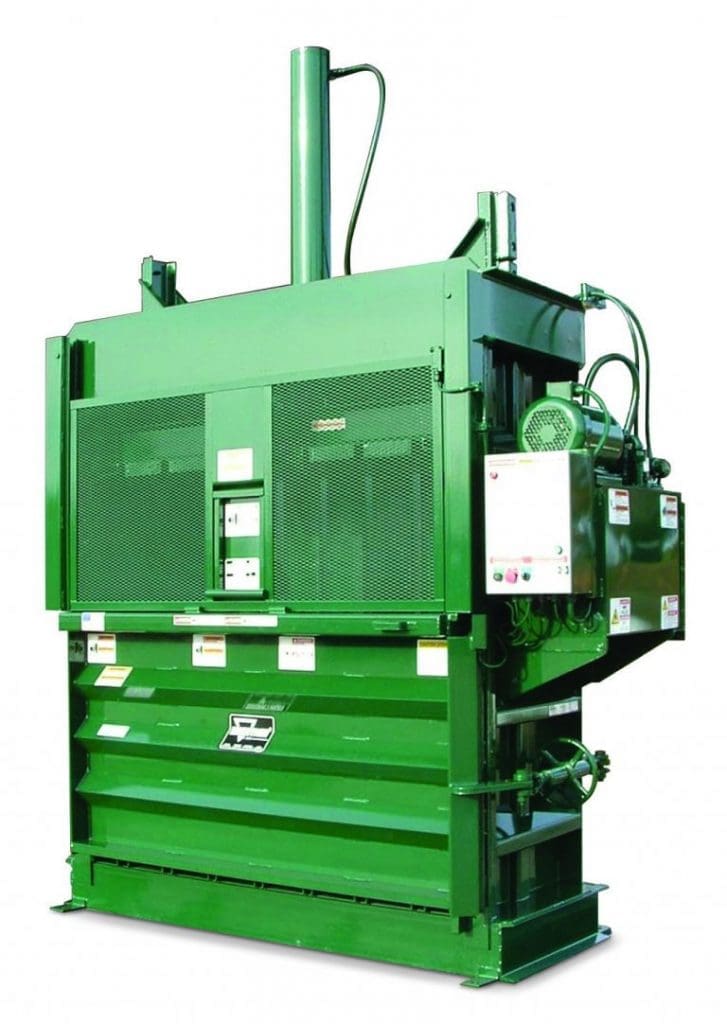 Cost: Vertical balers typically cost much less than horizontal balers by around one-fifth or even one-tenth the price of a horizontal one.
Variety of Materials Processed: There are vertical balers available to process almost every type of recyclable waste – everything from simple office paper to non-ferrous metals. Some vertical balers are also specialized, and they process aluminum, plastic beverage containers or storage drums.
Disadvantages of Vertical Balers
Final product: The smaller models may produce bales that are not "mill standard," making it more challenging to find end-users willing to purchase them.  
Height: Their height can also be a problem for some applications – vertical balers can be much taller than their horizontal counterparts.  
Paper: Vertical balers may not work as well for recyclables that have less elasticity when baled – materials such as office paper or newsprint. 
Which Baler Is Right For Me?
While you are comparing options for buying a baler, here are some questions to ask:
How many bales will I be producing daily?
Generally, vertical balers are best for operations producing no more than eight to ten bales per day. Horizontal balers should be considered for operations creating a higher amount.
How much space do I have?
Consider the height of the operation and the amount of floor space available. Keep in mind you'll need space for maintenance too.
What is your budget?
When choosing a baler, consider the costs associated with investing with the type you get. Also, don't forget to include the costs you can get in return for selling the baled materials.