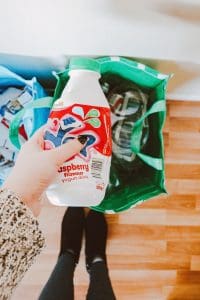 Are you wanting to improve your recycling and sustainability journey?
Over recent years, individuals and organizations have become increasingly aware of the benefits that recycling can have on the environment. As we navigate through these challenging times through the environmental crisis, there's no better time than now to recycle. Here are some ways you can improve your recycling this year.
Organize your garbage
Most of us have one trash can in the kitchen/in our home that holds pretty much all the household waste, before it is taken away. But having just one bin, can cause everything to end up in the same place. General waste such as food, as well as cans, plastic, cardboard all need to be disposed of correctly. Separating them at home first can make the process of recycling and proper waste disposal much easier for everyone involved.You could separate everything into their own containers which can then be taken away properly, rather than all of it hauled into general waste, and creating more problems at landfill.
Be mindful when shopping
Whether you're food shopping, looking for gifts or simply browsing, take a look at the labels on products; what does it tell you about the item? Can the packaging be recycled or reused? Can the item itself be recycled when it's no longer needed/wanted? Taking these steps and being more mindful while shopping can ultimately help you be more environmentally conscious and confident.
Get family and friends involved
If you have kids, teaching them about recycling and how to recycle is extremely important and beneficial to them. Show them where the recycling should go and teach them why we recycle. Starting this education at home can benefit them long term but also at school. Have your friends join you by recycling together; you could even set up a recycling challenge between you, to encourage each other to be more sustainable!
Charity
If you have clothes and items that you don't want or need anymore, consider donating them to charity. Not only does it reduce waste going to landfills, but also helps those in need! The Salvation Army and Goodwill are great places to start, as they take a wide range of items. This way you're recycling and giving back to the community, a chance for unwanted clothes and belongings to have a second chance elsewhere.
Reduce and Reuse
Reduce the amount of waste you produce by reusing products and items throughout your house. If you have lots of deliveries, save the boxes for storage in closets, or give to your pets as enrichment. Food jars once emptied can be cleaned and reused for storing more food or used as pen pots/toothbrush cups. Scarves or clothes that you don't want anymore can be cleaned and then used as gift wrapping for birthday or Christmas gifts! The possibilities are endless.
Hopefully these are useful ways to help you with learning how to recycle better and more efficiently.