Baler machines are one of the best tools to manage waste and recycling. Facilities that generate waste as a by-product of their manufacturing process can benefit from the efficiency and safety of balers. But what exactly do baler machines do? Our experts have that covered for you.
What Is A Baler?
A baler is used for recycling applications. It is generally a hydraulic press that compacts materials into a dense package of a specific size. The compacted materials are then held together with wire, twine, or strapping.
Balers are used for the following reasons:
Reduce the volume of material handling and more efficient shipping
Savings from avoiding disposal of materials
Generate revenue from the sale of baled materials
Meet or exceed industry specifications to maximize product value
Balers minimize the amount of time spent managing materials, require less space for recycling bins, and increase the number of materials your business can recycle, therefore reducing waste disposal costs.
How Do Balers Work?
Balers have a steel frame that supports a hydraulic ram powered by an electric motor-driven pump. Hydraulic oil is then pumped under pressure to the cylinder and moves the plunger (ram) against the material that is being baled. The material is packed into a dense block (bale) in the bale chamber. Once it is made, it is tied by hand or mechanically and ejected from the baler.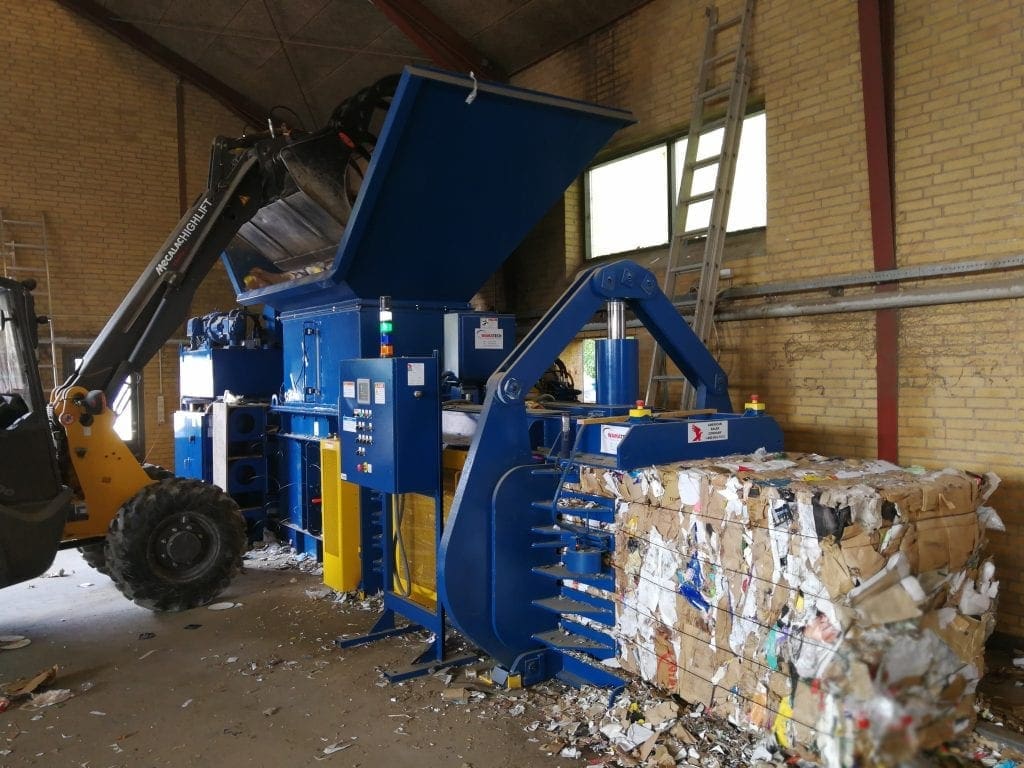 What Types Of Businesses Should Use A Baler?
Businesses and facilities that generate a sufficient amount of recyclable materials can benefit from using a baling system. Companies that generate waste as a by-product of their manufacturing process, such as:
Distribution centers
Recyclers and producers of paper, metals, and plastics
Municipal solid waste transfer stations and recycling centers
Paper mills
Baler Vs Compactor: Which Is Right For My Business?
The main similarity between a baler and compactor is they both reduce the volume of materials through a compression process. The most significant difference between them is that they process different materials. Understanding your business's needs and the types of materials you generate will give you an idea of what is best for you.
On the other hand, businesses use compactors that generate significant amounts of waste, and it will be transported to a landfill or processing facility.
Balers are best suited for recyclable materials (cardboard, paper, plastic, and metal). Balers come in various sizes, including vertical balers, horizontal balers, and more.