Are you looking for natural gift wrapping ideas to limit paper waste? Or searching for a solution to plastic decorations?
In Canada, 545,000 tonnes of waste is generated from gift wrapping and shopping bags each year. Household waste can increase more than 25% in the holiday season.
We guarantee after you start using some of these ideas to make a zero waste Christmas, you'll inspire loved ones to start making a change.
Natural Gift Wrapping Ideas
Keeping the mystery and joy in gift-giving does not mean you need to stop wrapping. Here are some solutions to lowering waste :
Wrap gifts in newspaper or recycled paper
Use fabric to wrap gifts or furoshiki. Limit the use of tape (Canadians use 6 million rolls of tape to wrap up Christmas presents every year 
Reuse string, wool and ribbons
Avoid glitter products
Opt for reusable gift wraps and bags
It's a good idea to choose one theme for wrapping gifts each year. You'll be able to save money on decor items, and you'll save space on having assorted gift wrapping in your house. You can buy recycled paper in large rolls and use it for other crafts after the holidays. There are also paper bag options that can be reused or recycled, unlike plastic counterparts.
Using natural twine is the best alternative to plastic ribbons. It's not only practical, but it adds texture and a hint of rustic beauty to your gifts.
Spruce up boxes with springs of cedar, rosemary, cinnamon sticks, or other loose herbs and plants.
Instead of using name tags, you can decorate wrapping paper with chalk or markers (bonus: this can be a fun family activity!).
Eco-Friendly Christmas Decorations
Christmas Trees
Real trees are grown in Christmas tree farms, and many local options cut down on carbon emissions. You leave them out for your municipality to pick up and turn into mulch at the end of the season. However, it's not always an option to buy natural. If you live in an apartment or small space, it's okay to have an artificial one. Consider thrifting one or find one that is made in Canada.
A fun eco-friendly option for a tree is a DIY tree. You can customize the size and materials to suit your needs. Take a look at the 21 ideas.
Ornaments
Visiting markets around the holidays will give you handmade options. If you're looking to make your ornaments, buy textiles and fabrics from a secondhand store, or harvest any loose greens, rocks, or twigs. Dried flowers, herbs, and fruit are also beautiful options.
Garland
Stringing popcorn, cranberries, flowers, dried citrus, or pinecones together will create a unique and biodegradable garland for your tree or home.
Cards
If you are sending cards or adding name tags, opt for rainforest-friendly or certified paper.
Advent Calendar
If an advent calendar is part of your family tradition, consider investing in a reusable one. There are DIY crafts and options available. You can even fill them with other treats and surprises (try switching chocolate every day for tea or small stocking stuffers).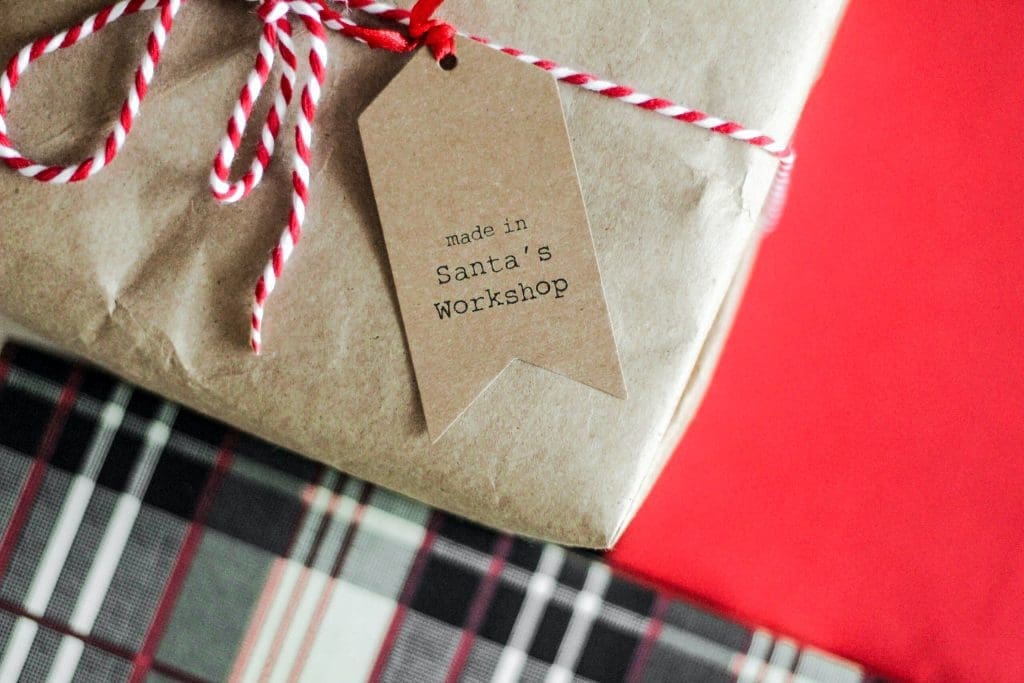 If you are transitioning to a low waste holiday season, resist the urge to throw out everything you have. Go through your current decor and wrapping supplies, donate what you can, and slowly start fresh. Transitioning to an eco-friendly lifestyle does not happen overnight!