From the food we buy to the gifts we give, there are ways to make your family Christmas a little bit greener.
On average, every Canadian produces 720 kilograms of municipal waste per year. The holiday season produces 25% more waste than other times of the year. Leftover holiday food, gift wrapping, plastic packaging, and household goods contribute to the growing number.
We need to be mindful of our carbon footprint during Christmas due to the massive waste we produce in this most wonderful time of the year.
Whether you're living a zero-waste lifestyle or looking for more ways to promote sustainability, here are some ways you can have a joy-filled celebration that promotes sustainable practices.
How To Have A Eco-friendly Christmas
Here is nine ways to simplify your holiday season and manage excess waste.
Rent, don't spend
Take a step closer to a green Christmas by renting a real tree. A real Christmas tree is more sustainable than its artificial counterpart. And to be more sustainable, you'd have to use your fake fir for about 20 years.
If you choose to buy a tree, make sure it's locally grown. After the holidays, maybe municipalities offer Christmas tree pick up and turn it into mulch, or you can use it on your property as a habitat for birds and other critters.
Use eco-friendly wrapping paper
You may have been reusing wrapping paper last year, but there's a great chance that roll contains plastic, foil, or glitter. Make sure to eliminate non-recyclable elements when choosing wrapping materials.
One way to know if you're using recyclable wrapping paper is to use the scrunch test. Scrunch up a piece of the wrapping paper in your hands, then let it go. If the paper remains scrunched up, it can be recycled. If it unfolds on its own, it may contain non-recyclable elements.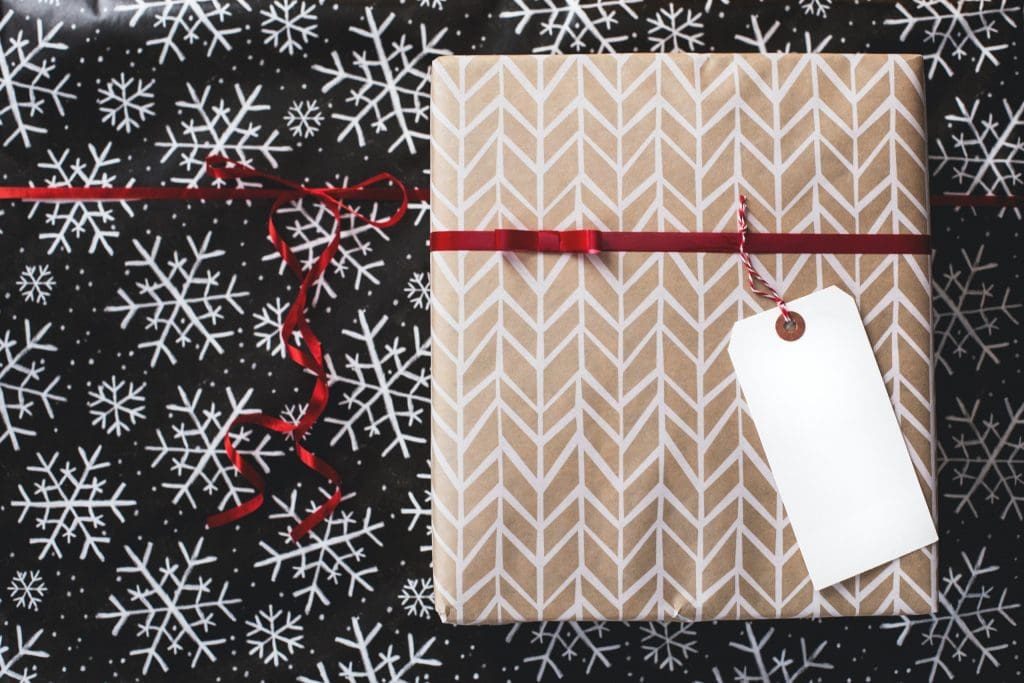 Ribbons and bows add a beautiful, personalized touch to presents, but these trimmings could be harmful to the environment – choose natural items if possible.
Brown paper, newspaper, fabric scarves are also unique ways to cut back on wrapping waste. If you have small children, break out the crayons and make a family evening of decorating paper. 
As much as possible, try to steer clear from throwaway wrapping or decoration and reuse what you had leftover from last year.
Choose eco-friendly and fair trade gifts
When choosing a unique gift, the pressure to go overboard can be intense, but it pays to hold back if you want to minimize your impact on the environment. 
It might be best to suggest a Secret Santa in your gift exchange with your family and friends. This will allow you to spend on a single, well-thought-out gift instead of buying multiple items that may only end up in the landfill. Shop for Christmas gifts like clothing, homeware, beauty items, and toys that are of high quality and made by local creators (or by you!).
Consider electronic cards
Consider crafting a personalized e-card or email. Better yet, call your loved ones to express your greetings or take time to meet with your friends and family over the holidays. But if you're eager to send cards, opt to use recycled paper. Another way that you can reuse and recycle cards you receive is by cutting the front off a card and using it as a gift tag.
Ditch the disposable cups
Using disposable dining wares may be the most convenient option when you are hosting. However, single-use plastics are among the leading drivers of increasing plastic waste in landfills. To address this concern while still ensuring your convenience, ask a friend or family member attending the party to bring their plates, cups, and utensils.
Source your food locally
The Christmas festivities are also an opportunity to express your support to small-scale ethical enterprises. Start with buying meat, produce, and even baked goods from local farms and bakers. You'll use less packaging and fewer food miles.
As a bonus tip, consume the food in your freezer leading up to the big day, so you have room for leftovers. You can slice the surplus ham and turkey and then wrap them in parchment or containers to freeze.
Minimize food waste
Tons of food goes to waste during holidays, as hosts tend to over-buy days ahead of the Christmas feast. To avoid buying more than what is necessary, round up a grocery list (and stick to it) before heading to the supermarket. This lessens the chance of panic-buying and wastage. Don't forget to eat before stepping into the store.
If you end up with leftovers, avoid throwing them in the bin. Instead, use leftover foods to create new meals and snacks to reduce waste. You can also blend leftovers to turn them into a soup or use the cheeseboard leftovers for a homemade mac and cheese dinner.
You can also ask your guests to bring their containers to take home any leftovers.
Use LED lighting
Switching to LED lights doesn't only help the environment, it also reduces your energy bills. They use 95% less energy compared to traditional bulbs. In 30 days, lighting 500 traditional Christmas lights can cost you around $18.00, while the same amount of LED lights only costs $0.19. 
For even more savings, consider turning off your tree lights and outdoor decorative lighting come at bedtime. It's a waste of energy to leave them on at night. 
Recycle old decorations
Look for opportunities to donate to reuse your holiday decorations for next year.